Epidemiological study of alcohol consumption and risk of hospitalization
Keywords:
Alcohol consumption, Alcohol poisoning, Alcohol abuse, Social harms
Abstract
Introduction: According to the high prevalence of alcohol poisoning, we aimed to study the demographical and clinical characteristics of patients with alcohol abuse, and the frequency of alcohol poisoning in hospitalized patients with alcohol consumption..
Materials and Methods: In this cross-sectional study, a total number of 513 patients who were referred to the Razi Hospital, Rasht, Iran, from 2015 to 2019, were tested for alcohol consumption. A checklist including demographic and clinical data of patients was completed by the researchers. Statistical analysis was performed via SPSS software version.22.
Results: Data analysis revealed that 85% of patients were male and the mean age of patients was 31.13±21.6 (12-18 years). 83.4% of the patients were residents of the city, and 52.8% were married. Self-employee had the highest frequency with 52.8%. 70.6% of the patients had alcohol abuse, and 49.7% of the patients had a history of smoking. In 96% of patients, the alcohol abuse was ethanol and in 4% of patients, it was methanol. 95.1% of the studied patients had symptoms of poisoning. 47% of patients had decreased level of consciousness. 58.9% of patients experienced nausea and vomiting. The majority of patients (96.7%) did not need dialysis. Studies showed that 95.5% of patients fully recovered.
Conclusion: Alcohol consumption is increasing in all different age groups, genders and social classes in Guilan province, but this rate has been higher in men and young people than in others, as well as lower educational levels, family income, unemployed, and lower social status can be considered as main factors that result in a higher risk of alcohol abuse.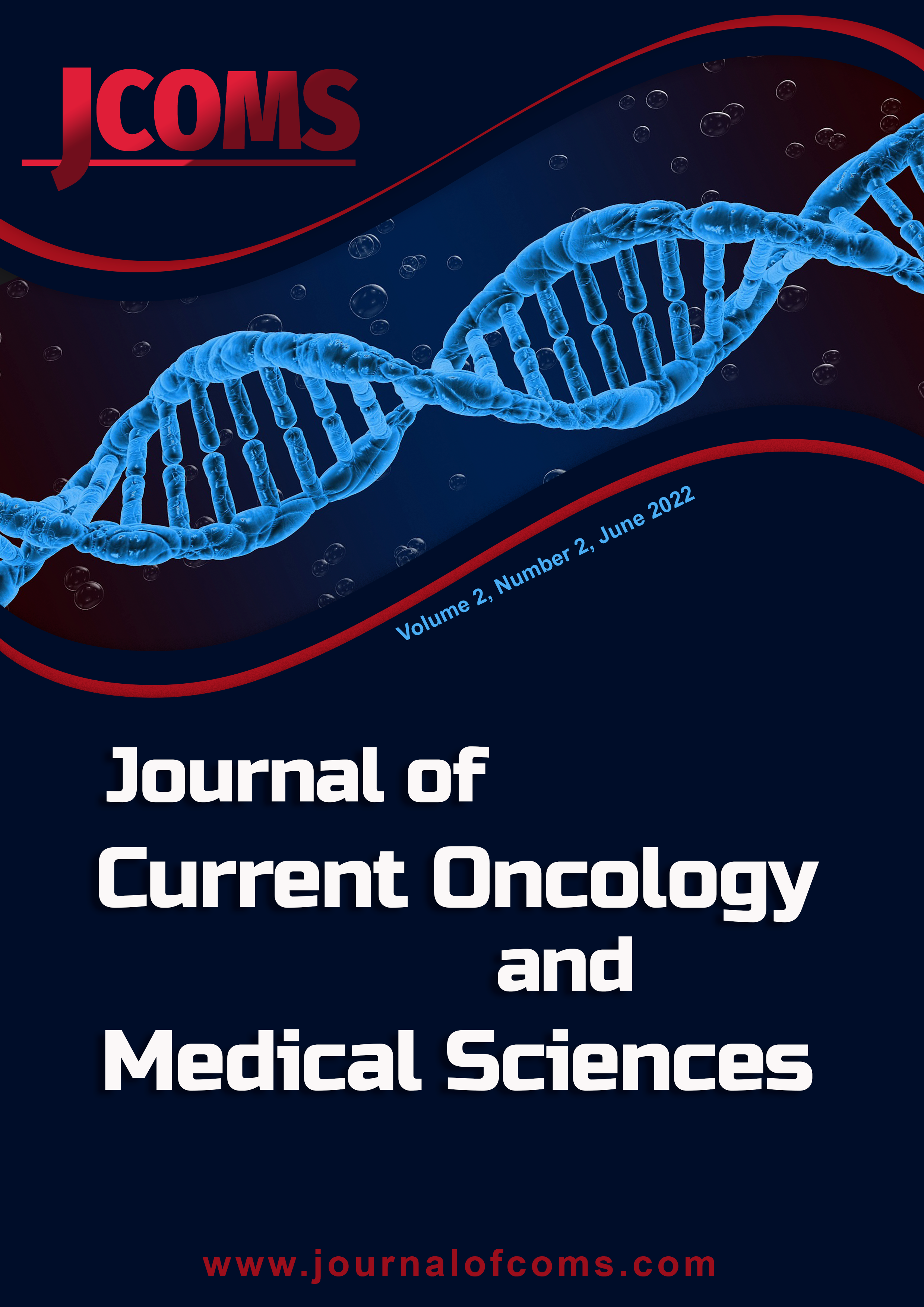 Additional Files
How to Cite
Mohammadi Kojidi *, H., Rahbar Taramsari , M., Attarchi, M. S. ., Eslami Kenarsari, H. ., Shamshiri, M. ., & Gholizadeh, Z. . (2022). Epidemiological study of alcohol consumption and risk of hospitalization. Journal of Current Oncology and Medical Sciences, 2(2), 185–189. Retrieved from http://submission.journalofcoms.com/index.php/JCOMS/article/view/44
License
Copyright (c) 2022 Hamid Mohammadi Kojidi *, Morteza Rahbar Taramsari , Mir Saeed Attarchi, Habib Eslami Kenarsari, Marzieh Shamshiri, Zahra Gholizadeh
This work is licensed under a Creative Commons Attribution-NonCommercial 4.0 International License.